Attention: The first thing we need to make sure is that whether your current condition allows you to take a plane. If you have severe and uncontrolled high blood pressure, anemia or heart failure, you are not allowed to come to China for treatment before your conditions get stable. So go and consult your local doctor about whether you are allowed to take a plane becomes the first and the most important thing.
You should make sure you have passport first

After receiving the copy of your passport, then the invitation letter which is in the name of Shijiazhuang Health Union Hospital will be sent.

If you are from Nigeria or Pakistan or Iraq, the procedure is a little complicated. Patients and their accompanying persons need to send the following documents: copy of passport; certificate of employment certificate of non-criminal record and patients' test reports. Then the invitation letter which is in the name of the provincial foreign affairs office will be sent. As it is the largest hospital specializing in treating kidney diseases, government gives Shijiazhuang Health Union Hospital great supports in dealing with invitation letters.

After receiving the invitation letters, you can go the local Chinese Embassy to apply for the visas. In general, it will take one week, or even 3-4 days for you to get the visas. Well, some patients apply for urgent visas to shorten the waiting time. Of course, if you are from the countries which are allowed to stay in China for up to 15 days without a visa, like Singapore and Mauritius, you can choose to come first, your private nurse will help you deal with visa extension.

After getting the visas, you can make airline reservations. Your nurse will pick you up at Beijing International Airport.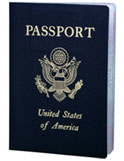 Passport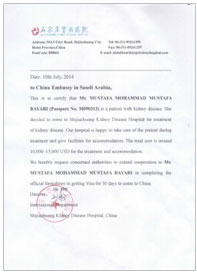 Invitation Letter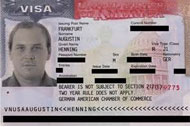 Visa

Airport Pick Up